Summer has just about gone, and the grill has been put away. I'm hoping we will have a couple of nice weekends in the coming months to fire it up just one more time, but the way the sky looks today, grey and dreary as it is, it is already looking to be a thing of the past. We did take great advantage of the summer months, grilling as much as we can. So I'll try to post some of the things we threw on the barbie before their memories become too clouded in this old brain of mine.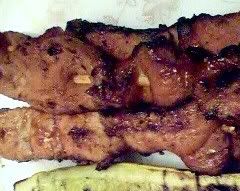 One of the things the girls like is anything barbequed on a stick; as did I. Growing up in the Philippines, barbeque on a stick was a common street fare food. I used to look forward to trips to the movies or the park as undoubtedly we would pass by the bbq vendors along the way. The theme for the next Lasang Pinoy event is Pinoy Street Food.Lasang Pinoy is a collective effort of Filipino Bloggers to promote or reminisce about the food that we grew up with.
Living and growing up in the U.S., my children have little or no exposure to street food compared to their cousins in the Philippines and Asia. The society we live in now has gotten so germ phobic and sue crazy that street food is an imposibility. People will not buy from a common hawker because they fear it's cleanliness and people will not dare sell food off their porches for fear of being sued or fined for not having a permit. Kids can't even sell lemonade anymore without being subjected to legalities. Sure there is a lot to be said about the cleanliness of food casually sold by unregulated vendors, but I don't remember ever getting sick from street food either.
I grew up before McDonalds, KFC, Pizza Hut, Jollibee and the likes littered our mountain city of Baguio. Fast foods can only be had from street vendors. On our Sunday outings to Burnham Park, I can guarantee at least one treat of either peeled and sliced green mango with bagoong, kamote que (fried sweet potato on a stick covered with carameled sugar), corniks, garlic roasted peanuts, or barbeque on a stick. If we are have been good girls and extra lucky, we may even have a scoop of ice cream!
One of my more adventurous quests for food though, was to eat at the ultimate of street food, the portable restaurants. Their proper name escapes me (so if any pinoy readers can refresh my memory, please let me know), but they are mini restaurants/cafeteria, usually set up in tents or shanties either on the outskirts of the park or the wet market. They serve home made dishes at very inexpensive prices. One of the things I used to do surrepticiously, since this was absolutely forbidden (I was only 8 or 9 yrs old), is to sneak off solo into the market place and find one of these stalls that serve arroz caldo or chicken soup with rice.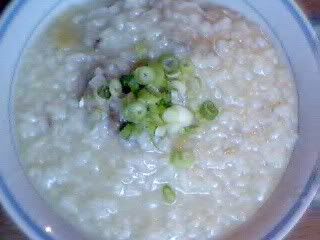 For a mere 15 cents, you can get a hot delicious bowl of rice soup, but for an additional 10 cents, you can get a piece of chicken with your soup. Either way, with or without that piece of chicken, this was the best soup ever. A lot of the enjoyment, I'm sure, came from the "grown up" feeling I always got from sitting in a restaurant (if you can call it that), ordering on your own and paying for it yourself. After eating, I would always walk back guiltily to our house, but with that fullness in my belly that only street food can provide.