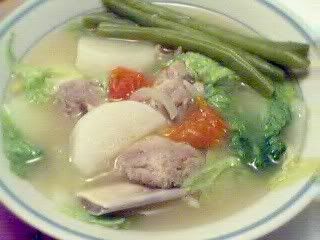 The weather turned cold today, after a week of mid 70's to low 80's temperature, this morning it dipped down a full 30 degrees and was in the 40's when we walked out of the house. I have also been bugged by a nasty cold for a almost two weeks now and I can't help but want some soup. The first thing to mind is some sour soup. I've posted a sinigang recipe here before, using pork hocks. I couldn't find any pork hocks, and besides, I have been told to lose a few pounds before the end of December so I couldn't very well go on eating all the fatty foods I've been indulging in lately. So this is a compromise but a very good one. I used spare ribs instead of the fattier hocks and it hit just the right spot!
I have been a bit slow (well ok, VERY slow)posting recipes lately due to several reasons. One, I've been lazy. Two, I've been busy with kids and work, and three, we upgraded our operating system to XP and we havent' figured out yet how to transfer everything to the new system including applications and documents. I just assumed that it would have picked up everything we had before, but I guess not 🙁 So until we get the home PC straightened out, I guess I will post all these saved photos on photobucket that either were not too interesting to blog about or just haven't had time to.
Now I'm really wanting some soup….