Belated Happy Thanksgiving, to all! I've been under the weather lately so I haven't been posting much. I have to admit that after the cooking marathon that is Thanksgiving, I didn't have time to actually cook pancit for the Lasang Pinoy 4 event. I had intentions to though. We had it on this year's Thanksgiving menu, but since I wasn't feeling quite 100% we decided to omit it this time and may cook it sometime this weekend instead when we are reaching turkey overload.
The photo below is one that I took sometime ago of our quick and easy pansit bihon. The theme for this month's Lasang Pinoy is soul food. Comfort food that you turn to when you are in need of a hug or just want to be reminded of good times past. Pancit Bihon does this for me. This noodle dish can be made as simply or as fancy as you want to be.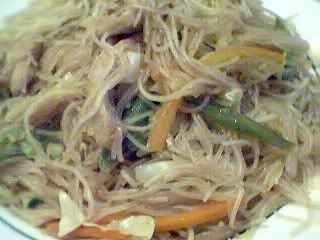 "Soul food" is defined by Wikipediaas being ethnic cuisine traditionally eaten by African-Americans in the Southern United States. Having lived in the south for a while, I can tell you that it is an overly simplistic statement. It is so much more than just the food, it is almost indefinable. It represents so much more than cuisine, it is a lifestyle, a way of relating to family, friends and people in general, it is a way of looking at and dealing with life. Every culture, I think, have their own "soul food".
Holidays are sometimes hard for me because it is during these times that I miss my family the most. We live close to my husband's family, but mine is a good couple of thousand miles and several states away. During these times when I am missing them, I tend to turn to the foods of my soul, Filipino food. Pancit bihon is a favorite because it is one of the simplest and easiest to prepare. It is one of those dishes that you can spruce up by adding more embellishments or you can enjoy it just as well in its most basic form.
I always have a pack of pancit bihon (rice noodles) in my cupboard much the same way that rice is a staple. The most basic version I make is:
1 8-oz. pk Bihon (rice noodles)
2 tablespoons vegetable oil
1/2 lb. pork (sliced in small strips)
1 medium onion, sliced
4 cloves of garlic, minced
1/2 cup carrots, julliened
1/2 cup celery, sliced thin
2 cups cabbage, sliced thin
1 cup chicken broth
1 tablespoon oyster sauce
Soy sauce, to taste
Black Pepper, to taste
Soak the noodles in a pan of warm water to soften. Heat the oil and stir fry pork slices until it starts to brown. Add the garlic and onions and saute until fragrant. Add the carrots and celery and stir-fry for a couple of minutes. Add the chicken broth, soy sauce, oyster sauce, cabbage and black pepper. When the broth comes to a boil, add the noodles and mix well, adjust seasonings as needed. Turn the heat to low, cover the pan and simmer until the noodles are cooked through.
You can also add other ingredients to the basic recipe above such as: shrimps, Chinese sausage, green beans, snow peas, mushrooms, etc.
Traditionally, you can also use the following toppings before serving: sliced green onions, fried garlic, lemon, boiled eggs, etc.
Big thanks to Minnette for hosting this round of Lasang Pinoy.