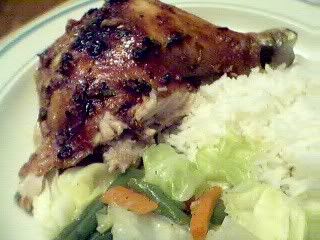 We are still without a decent camera to photograph our meals with, so I figured I would do a thorough clean up of our photo archives and post them here.
In our house, garlic reigns. Everything is garlic infused even though the names of the recipe do not always tout it as such. Besides keeping vampires at bay (I'm not kidding!) it also has many other health benefits such as lowering your cholesterol, lowering high blood pressure (great for pregnant women are prone to pre-eclampsia – learned this during my three pregnancies), and lowering blood sugar for diabetics. I don't know too many people who do not like garlic (because I screen my friends to be on the garlic tolerance scale 🙂 the more they like garlic, the closer they are to my heart). But if you happen to be a garlic newbie and just don't know what I am talking about you can read more about this stinkin' rose here or just come over my house and you'll smell what I mean.
Nothing unusual about this baked chicken other than it is drowning in garlic, but here goes the recipe:
1 whole chicken (leave whole or cut up)
1 whole head of garlic
2 tablespoons olive oil
2 tablespoons kosher salt
1 teaspoon ground black pepper
1/2 teaspoon dried pepper flakes
2 lemons
Wash and dry the chicken inside and out. We left ours whole as the girls like the crunchy skin it develops while roasting. Nothing wrong with cutting it up in pieces though and smothering it with the ingredients above before baking. For the whole roasted chicken method, do the following:
In a small bowl, combine the garlic (leave the peeled cloves whole for milder flavor or crush and roughly chop like we did to get the full effect), olive oil, salt, and peppers. If you plan on using the garlic whole, leave them out of the mixture for now. Cut the two lemons and squeeze the juice all over the chicken, inside and out. Save the rinds. Rub the chicken inside and out with the salt/pepper/oil mixture and try to get some under the skin to further infuse the chicken with flavor. If you left the garlic cloves whole, stuff them in the cavity along with the four halves of the squeezed lemon. Put in a roasting pan and roast at 350 degrees for an hour or until the juices run clear. Remove the lemon from the cavity before serving. I'll leave the garlic cloves at your discretion. I can only tell you that at our house, it will not be going to waste, it will end up on someone's plate. More than likely mine 🙂
Note: in the summer time when we have plenty of fresh herbs, we've also chopped up basil, parsley, oregano, or thyme into the rub, just depending on what we're in the mood for.