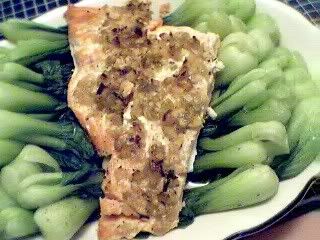 So the garlic saga continues… I couldn't resist posting this today after visiting CJ's Food & Discovery. Yesterday she had left a comment on the Garlicky Chicken Bake that she too had just posted a garlic chicken recipe on her blog. I just love the foodie synchronicity that goes on in the sisterhood of food bloggers sometimes 🙂
Salmon is a regular meal at our house, so we try different ways of presenting it. Most of the time though, it is simply baked as in this case. It's the easiest. A great testament to the eponymous 30-minute meal by Rachael Ray. The only difference on this version is the garlic extravaganza.
1/2 side of filleted salmon
1 head of garlic, chopped
1 lemon
3 tablespoons of butter, cut into chunks
Kosher Salt & Ground Pepper
Sprinkle the side of salmon with the chopped garlic, salt and pepper. Dot with butter pieces, and squeeze the juice of one lemon all over. Bake at 400 degrees for 20 minutes and you're in garlic nirvana.
Again, if you have fresh herbs on hand, a sprinkling of basil or parsley would be a great addition to this dish. Enjoy over rice, or if you're conserving carbs, just veggies. In this case, we had it with blanched baby bokchoy. A very heart healthy meal! (which I am told is what I should be having more of) bah!