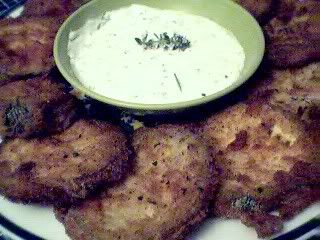 Zucchini (courgettes) is another favored vegetable at our house. One of the few that I can get my girls to eat in whatever shape or form from fried to stewed to cakes. One of their favorites though is fried. They would even take these as an after school snack.
Zucchini, sliced into circles or sticks
1 egg, beaten
Bread Crumbs (in this case we used store bought crumbs but it's just as easy to make your own from old bread too.)
Oil for frying
Dip the zucchini slices into the egg, shake off the excess then dredge it in the bread crumbs mixture. Fry in hot oil until browned and serve with ranch dressing. Presto!