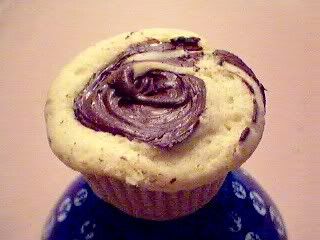 Who doesn't love a good cupcake once in a while? In our kitchen, cupcakes don't come by too often, but when they do, they get gone in a jiffy 🙂 These were no exception, which I came across at Chichajo's 80 breakfasts who in turn found it on the baking sheet who adapted it from the venerable Donna Hay. Well, now here it is in our kitchen.
10 tbsp butter, softened
3/4 cup white sugar
3 eggs
1/2 tsp vanilla
1 3/4 cups sifted all-purpose flour
1/4 tsp salt
2 tsp baking powder
Nutella, approx. 1/3 cup

Preheat oven to 325F. Line 12 muffin tins with paper liners.
Cream together butter and sugar, add in eggs one at a time, until fully incorporated. Add vanilla. Stir in flour, salt and baking powder until batter is uniform and no flour remains. Fill each muffin liner with batter. They should be 3/4 full. Top each cake with 1 1/2 tsp Nutella. Swirl Nutella in with a toothpick, making sure to fold a bit of batter up over the Nutella.
Bake for 20 minutes.
Remove to a wire rack to cool completely.
Makes 12.