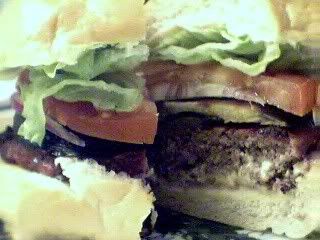 Spring is officially here in a couple of weeks and that means the grill is coming out from under the cover. Summer will be here before you know it. My hubby and girls love homemade hamburgers, and I think we have come close to perfecting this just the way we like it. It is basically a meatloaf mixture, but for some reason when cooked as meatloaf, my finicky family just refuses to eat it. Shape it into patties and put it in a bun and they are in heaven. Go figure!
For these burgers you will need:
2 pounds of lean ground beef
1 large onion finely minced
3 cloves of garlic minced
1 green bell pepper finely chopped
2 eggs
1/4 cup teriyaki sauce
3 TBSP. balsamic vinegar (or red wine if you haven't drank it all)
1 TBSP. basil (fresh if you have it, but dry works too)
1 tsp. fennel seeds
1/2 cup bread crumbs
Salt & Pepper to taste
Mix all the ingredients until well mixed and form into patties. Grill or pan fry to your preferred doneness. Having to cook everything on the well done side for the kids, hubby and I have slowly moved from the medium to the done side too. The good thing about this mixture is that it stays moist even when well cooked.