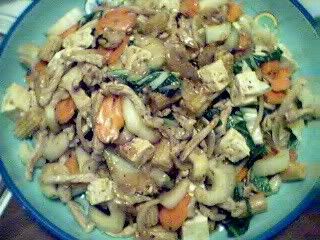 I can't believe while looking through my photo archives that this is the only photo of this dish I can find. Yeah, I know it's a long title, but since I didn't really follow a recipe I don't really know what to call this. It's like a cross between a regular stir fried dish and chow mein. This dish actually had noodles buried under all the veggies, and I thought I had a better photo to show that. Oh well, I guess you'll just have to take my word for it that somewhere under that pile of goodies are some noodles. I think this may be closer to chopsuey, but since I haven't consciously cooked chopsuey yet, I am not really sure. I just remember ordering chopsuey frequently as a child and have always associated stir fried vegetables with it. I also had some tofu on hand, so I thought I may as well throw those in too.
I've been trying to eat more tofu lately, since it is supposed to be rich in magnesium; an element sorely needed by aging bodies like mine, according to Dr. Emer, my long-distance medical consultant and friend.
For this dish you will need just about everything in your refrigerator. Well not quite, but the ways you can vary the ingredients can be endless:
INGREDIENTS:
1/2 pound of pork loin, sliced into thin strips
4 cloves of garlic, minced
1 large onion, sliced
1 medium sized bok choy, sliced
2 carrots, sliced thin
2 ribs of celery, sliced thin
1 can of baby corn
1/2 cup chicken broth
1 teaspoon corn starch
2 tablespoons oyster sauce
Salt & Pepper to taste
1 pack of egg noodles (about 8 oz), pre-cooked
COOK THE NOODLES:
My girls like the pan-fried noodle dishes from the Chinese restaurant, so this was also an attempt to duplicate the crunchy noodles that slowly soften with the gravy from the stirfry. Since I can't get my stove to heat my wok enough for a good searing like in the restaurants, I used the following method gleaned from the net, but sadly can't remember exactly where. First, boil some water and cook the noodles for about 5 minutes. Drain, toss in 2 tablespoons of canola or vegetable oil, and spread on a cookie sheet. Put under the broiler for a minute or two (watch closely) just until the edges of the noodles start to brown. Turn the noodles over and do the same to the other side. Put noodles on a pretty dish and set aside.
STIRFRY:
Heat two tablespoons of oil in a wok and stir fry the pork strips until they are cooked through. Remove from the pan or just move them up the sides so you can stir fry the garlic and onions until they are fragrant. Add the celery and carrots and stir fry everything together. Add the oyster sauce, salt and pepper and stir a couple of minutes. Add the bok choy and baby corn and the corn starch dissolved into the broth. Stir together just until the corn is heated through and the bokchoy is slightly wilted then add the tofu. Cook another minute for the tofu to get heated through and the broth to thicken. Adjust for taste, and pile on top of the noodles.