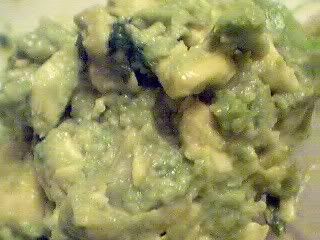 We love cooking and eating Mexican food, and guacamole is one of our favorites either as a dip or as an accompaniment to any Mexican dish. However, we have also gotten into the habit of making it every time we cook out on the grill. It just pairs up well with grilled meats. This is a very simple version, and I find it works best with picky kid palates.
2-3 avocadoes, peeled, seeded and coarsely chopped
1 lime, juiced
2 roma tomatoes, seeded and diced fine
1/2 teaspoon salt
1/2 teaspoon garlic, finely minced and mashed
2 tablespoons cilantro, chopped
Mix all ingredients together, slightly mashing the avocado in the process. We like to leave some avocado chunks in our guacamole. Great to dip tortilla chips in or just a condiment for grilled meats.