I finally got around to posting something for Weekend Herb Blogging which was started by Kalyn's Kitchen! The garden has been doing really well especially the herbs, so I thought this event would be the perfect way to feature these goodies from our backyard.
From one pack of beets seed, we've had a bumper crop of beets this season. I haven't motivated myself yet to start canning anything so we've been eating a lot of greens and beets. So far our favorite way of fixing beets is this fresh pickled recipe which I put together from several sites on the web. The addition of fresh dill is a must.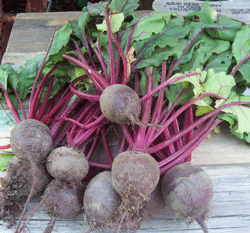 The dill heightens the natural sweetness of the beets perfectly. We have also tried it without the dill, and the flavors were a bit flat without that extra kick from the dill so if you can, don't leave it out.
To cook the beets, first cut the tops off, leaving an inch on the roots, and reserve for another dish. Don't be tempted to peel them first as I was because this will cause a lot of the pretty red coloring to bleed out, and bleeding out is not a good thing even for vegetables. That means don't cut the root tendrils off either just wash the roots throughly and boil the beet roots unpeeled until tender, about 20 to 30 minutes. You can cook them longer if you prefer them to be more tender. 30 minutes, I found, is the perfect cooking time for me as at this point they are thoroughly cooked but still have a bit of a 'bite' to them. Rinse them under cool running water, cool, peel and slice into rounds or quarters.
In a small bowl combine:
1/4 cup apple cider vinegar
1 tablespoon sugar
1 tablespoon olive oil
1/4 teaspoon each of salt & black pepper
about 1 tablespoon of fresh dill, chopped (add more if you prefer I was being a bit cautious this time around)
Pour the dressing over the prepared beets and let marinate at room temperature for at least 30 minutes before serving.