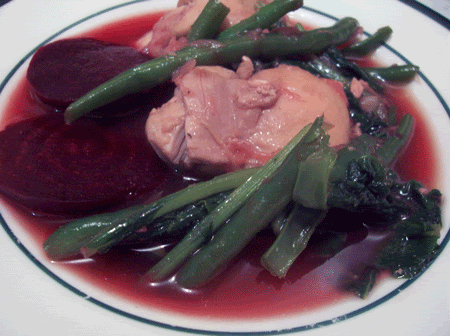 This round of Lasang Pinoy, hosted by the beautiful Ces, is all about being Distinctly Pinoy with a Twang or fusion cuisine. This blog has always been about fusion. Nothing is authentic here. Every dish we cook is spiced with what we are and where we are in life and in the world. So our traditional Filipino dishes get a touch of Americanism and we infuse our Filipinoness to every dish we cook. Sometimes subtly, sometimes not.
I was thinking of doing a re-cap of old dishes we have done where we changed it up and made it our own, but all you need to do is rifle through our archives to see that. This simple dish came about during one of my experimental moments and because I have so many beets right now I just don't know what to do with them. We also have plenty of other vegetables so I have been trying to put as much veggies as I can on the table as possible.
This is a perfect marriage between western vegetable, beets, greens and an eastern (Filipino) dish, tinola.
INGREDIENTS:
Chicken, whole & chopped into serving size pieces
4 cloves of Garlic
1 medium onion, slices
1 knob of ginger (about 1 inch, sliced into rounds)
Patis or fish sauce to taste
4-6 cups of water
2 Tablespoons Oil
Vegetables (use any combination you like – these are what we used this time around):
Cooked Beets – roots (boiled for 20 minutes beforehand)
Green Beans
Mustard Greens
In a pot, heat the oil over medium heat and sautee the garlic, ginger and onions until fragrant. Add the chicken pieces and add about two tablespoons of fish sauce. Cover and let it cook down for a few minutes. Add water and let it simmer longer until the chicken is tender. Before serving, add the green beans and mustard greens and cook until crisp tender, then top with the cooked beets. Let it simmer with the beets for a minute just to get the color in. Taste and adjust seasoning.
I didn't cook the beets all the way through in the soup, although I could have, because they tend to be very sweet and would have made the soup overly sweet.
The Clone decided this time she only wanted the soup, so pink soup it is…..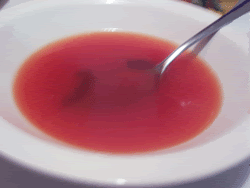 Filipino Cookbooks