Just because this is an HERBY dish, I decided to make this my entry for this week's Weekend Herb Blogging, which is back home in Kalyn's Kitchen this week.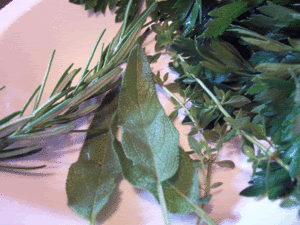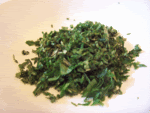 Are you going to Scarborough Faire…. Know that song? That is what this dish is named after. Why? Because it has parsley, sage, rosemary and thyme, of course! All these herbs we have in our garden so I thought why not make a recipe out of the song and at the same time use these individually packaged chicken thighs that Costco, our favorite store, have started carrying. They contain 5 thighs in each pack which is perfect for our family, there's five of us!
Chicken is cheap and baking is easy so a baked chicken dish of one sort or another is pretty common in our kitchen. This dish is something we came up with just to have something different for a change.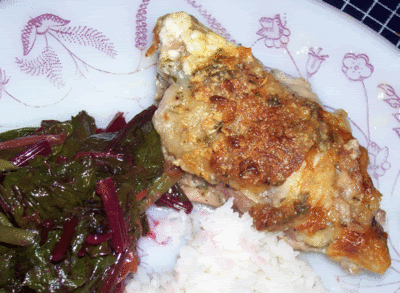 10 Chicken Thighs
3 Tablespoons Butter
Parsley, Sage, Rosemary & Thyme (probaby about a tablespoon each, chopped)
1 teaspoon garlic powder
2 cups Flour
1 can Evaporated Milk
Salt & Pepper to taste
Place the butter in a baking dish in the oven, heated to 375 degrees, to melt. In the meantime, season chicken thighs with salt, pepper, and garlic powder. Coat each chicken piece with flour and lay on the baking dish skin side up. Pour the milk and about half a can of water in the dish, sprinkle with the herbs, and bake for 375 degrees for 45 minutes to an hour until the chicken is tender and the liquid has thickened to form a gravy.
This time served with Beet Greens with Garlic and as always, steamed rice.