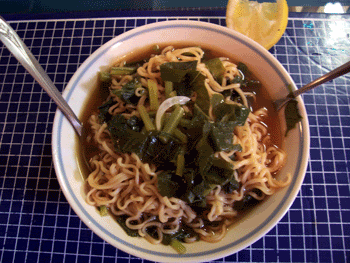 I know I've mentioned before how ramen noodles are a staple in our house. It is the Clone's meal when we are serving fish or any other dish she does not care for or when I am feeling lazy and don't feel much like cooking but still want something warm and comforting anyway, we turn to ramen noodles. Luckily, the Clone has developed a taste for sinigang or sour soup and I managed to slip in some vegetables in her by making her this bowl of soup during another one of our seafood inspired meals.
For this version, I omitted the packet that comes with the noodles and instead flavored the soup with a couple of tablespoons of tamarind powder, a few slices of onion and seasoned with salt. Added the noodles and collard greens and cooked until the greens are tender. Voila! instant meal for the Clone 🙂
How do you dress up your ramen noodles?