For the first anniversary edition of Lasang Pinoy, hosted by stef of stefoodie.net and Noodles & Rice, the theme is to define what being Pinoy is all about. I think this may be the hardest topic of all. It is like having to choose which of your children is your favorite. You love them all, but they are all different and they all have something that makes them special, and you love them all for different reasons but you love them all the same, without one having more advantage over another.
A recent post by Gigi about being Pinoy in California and the ensuing comments afterwards reminded me of this sometimes annoying and at the same time flattering habit of being asked, after someone finds out that you are Filipino, if you cook Pansit or Adobo or Lumpia. So do we assume that these three dishes represent us as a culture? It is probably best not to assume. Just as I would never assume that spaghetti or pizza represents Italy, or chow mein of China (ok, so I picked the worst examples, but you know what I mean). There is so much more depth and variety to Filipino cuisine which is why Lasang Pinoy was started in the first place; to show that there is so much more to our cooking beyond pansit, adobo and lumpia.
So I offer you my obligatory Adobo, Pansit, and Lumpia that I've posted previously. More versions of Adobo are coming – because the ways to adobo is long and ever expanding. 😀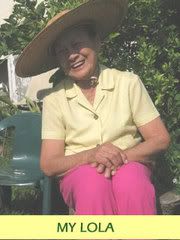 For this Anniversary theme, I offer my Lola's Kamote Salad. It is one of the simplest dishes to make but not too many foreigners would know about it because it is rarely offered during parties. It is not the kind of dish that you would bring to a potluck or offer guests to a dinner party. Although I don't know why not, I think that it would be a novel addition to any dinner party. I would certainly serve it. I think that it is not offered to visitors much, because it is considered "peasant" food and when we have company we try to show off a bit and offer something that is not considered "everyday" food. At least that is how my Lola would rationalize it.
I picked this dish not only because of its simplicity (at a time when I'm terribly busy with getting the girls back to school) and availability (I have all the ingredients handy from my garden), but also because everytime this is on the dinner table we remember our Lola who always made this for us as it is also her favorite dish. Lola to us embodies our Pinoyness. She is the string that connects us to our heritage. She is the one who keeps us grounded to our roots.
Here is my Lola's Kamote Salad: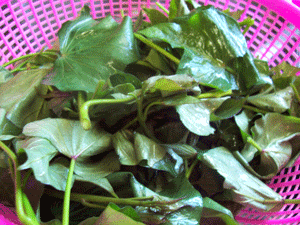 First wash and trim the sweet potato greens. When picking the leaves from the sweet potato plants, I usually cut about a foot from the top (the most tender leaf) of the plant. Bring them in to wash, then trim them further. I use just the tender stalk from the top, snapping it just at the point where it breaks with a snap. The rest of the leaves attached to the remaining hard stem are then pinched off and the stem discarded or if you have a recycling fool for a husband, they can be put in the compost or stuck back in the ground where they will generate more greens for you but probably not potatoes. After you have all your green leaves and tops washed, blanch them in boiling water for about two to three minutes. Drain, and rinse with cold water.
In the meantime, prepare:
– chop up some tomatoes and onions
– finely mince fresh ginger (about a tablespoon)
– juice 1 lemon or lime (or according to your taste and size of lemon/lime)
– Patis (fish sauce) or bagoong (fermented fish paste)
Mix all the ingredients above, adjust seasoning as needed and mix with the kamote greens. Serve.
This is my preferred vegetable (when available) whenever we have anything fried be it fish or meat.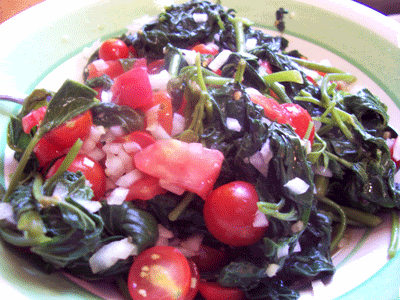 If you have a non-fish eater like my Clone, you can also dress your kamote greens even simpler with just tomatoes, salt, and a spritz of lime juice. This is her salad:
Thanks again to
Stef
for hosting this anniversary round of
Lasang Pinoy
. This year has been a fun one learning and spreading the word about our beloved Filipino Cuisine. I look forward to many more LP editions!
Filipino Cookbooks