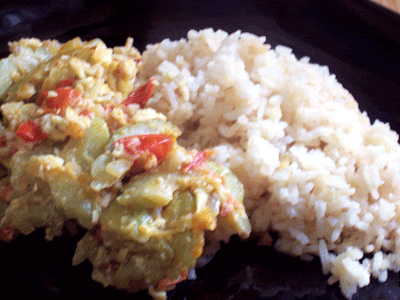 This is what I had for brunch today. I would like to introduce, to
Weekend Herb Blogging
this week,
Ampalaya (momordica charantia) or bitter melon
. Like it's name says, it is bitter. Bitterness is a taste that is often underappreciated in most cuisines but as my grandmother used to say, with your palate as in life, you can't appreciate the sweetness until you've had a taste of bitterness. It is certainly an acquired taste. It is learned. I used to spit this stuff out as soon as I tasted it. She taught me to learn to like it by first giving a bit of the bitter stuff then telling me to chase it down with some water. Then she would say, "did you notice how the water tastes sweeter?" It did! Pretty soon I learned to like bitter melon and appreciate it's flavor. Now that I'm older, I also appreciate it's nutritional value and medicinal advantages. See the links at the end of this post for more information.
I found a pack of Ampalaya seed early in the spring and I immediately grabbed a pack. I followed the instruction on pre-soaking the seeds before planting them after all danger of frost had passed. I figured it would fare well in our growing region since we do have some hot summers which it supposedly prefers to grow in. I was a bit disappointed when only one plant came up; but I have become delighted with this one plant as it proved itself to be quite prolific. Have a look in our backyard for photos of it's first baby fruit. It's had many more since.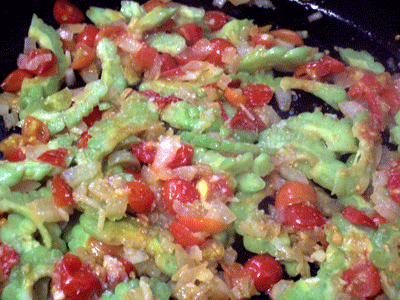 This is how it looked while it was sauteeing, before the eggs were added. Don't you love the colors?
INGREDIENTS:
1 med/lg bitter melon, sliced thin
1/2 onion, chopped
1 clove garlic, chopped fine
1/2 cup cherry tomatoes, quartered
2 eggs, scrambled
Salt & Pepper, to taste
Oil
Heat about two tablespoons of oil and saute' the garlic and onions until fragrant. Add the tomatoes and bittermelon and continue to cook while constantly stirring until almost dry and the bitter melon is cooked. Season with salt and pepper and add the scrambled egg. Slowly stir until the egg is cooked through. Remove from heat and serve.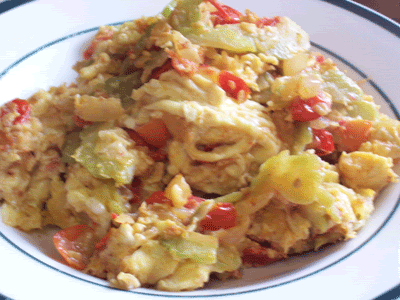 Still need convincing of the benefits of Ampalaya? Visit these links for additional information:
What is Ampalaya?
Links to more information on Ampalaya.com
Thanks to Kalyn of Kalyn's Kitchen for conceptualizing this event and also hosts it this week. Visit her site for the roundup of all participants this week.