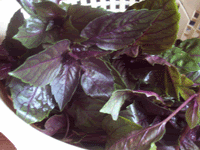 Along with sweet basil, we also have a few very lush purple basil plants. So when I saw this recipe for Purple Basil Syrup on Calendula & Concrete, I knew I just had to try it. It is a perfect way of enjoying the pure flavor of purple basil.
Start out by getting about a cup worth of chopped purple basil (packed). Place basil in a saucepan along with 2 cups of water, 1 cup of sugar, and 2 Tablespoons of lemon juice.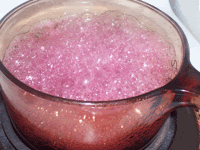 Bring this to a boil. I let this boil until the liquid was reduced to about half. If you have a candy thermometer, you can also monitor the temperature until it gets to the syrup stage which on mine is about 230 degrees F. Remove from the heat and pour it through a strainer.
At this point, you will have this beautiful burgundy syrup that is infused with the scent and flavor of purple basil.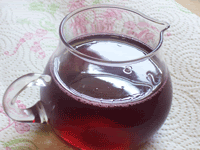 We followed Christa's lead and served this with crepes and mango slices. It was delicious!
We still have plenty of purple basil, so we'll be sure to make more of this syrup.