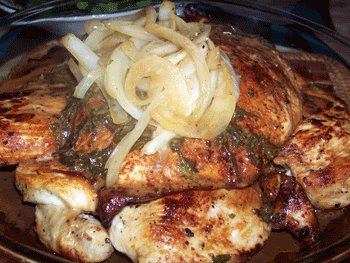 Bistek is a classic Filipino dish of beef steak marinated in soy and calamansi juice. This is a variation of that recipe using chicken. As with most of our recipes, this is perfect for a quick weekday meal because it is quick and easy to make.
INGREDIENTS:
5 chicken breasts, boneless, skinless
1 Tbsp. Olive Oil
4 Tbsp. Soy Sauce
1 Tbsp. Mirin
3 sprigs of Basil, chopped
Cracked black pepper, as much as you like
1 lemon, juiced
Marinate the chicken breasts in soy sauce, mirin, lemon juice, and chopped basil leaves for at least 30 minutes. Heat the olive sauce in a skillet and brown chicken pieces on both sides until cooked. Remove the chicken from the pan and reserve. Deglaze the pan with the marinating liquid and let it boil until it is reduced by half. Pour the sauce over the cooked chicken and top with sauteed vidalia onions.
Filipino Cookbooks