The theme or this month's edition of Lasang Pinoy is Ala Espanola. We will feature Filipino dishes influenced by the cuisine of Spain. So you ask, how is it that an island nation in South East Asia could have a cuisine touched with Spanish overtones? Over 3 centuries of Spanish colonization will do that. The cuisine of the Philippines is heavily spiced with the taste of old Spain.
My grandparents hail from the Ilocos region on the northern part of the Philippines. Their home cooking style mainly consisted of dishes that were either roasted, steamed, boiled or raw. We didn't have many of the traditionally Spanish type dishes as part of the daily menu. Those were reserved for more festive occasions or ordered at restaurants. However, I did have an aunt who had a penchant for "fancy" dishes and would sometimes fix fish ala escabeche.
Escabeche as defined by this site is "a spicy marinade of Spanish origin used to marinade fish and sometimes poultry." This dish, reminiscent of the escabeche my aunt used to make, is the Filipino version which means that it is also touched by another cuisine, Chinese. My kids now just call it sweet and sour sauce.
Whereas the fish used for this dish is traditionally left whole, I used filets of tilapia instead. This is my version: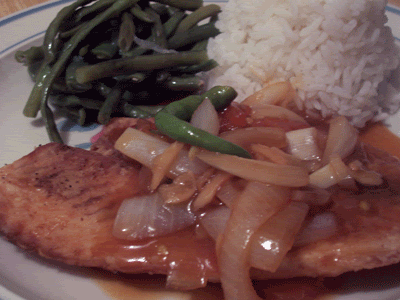 INGREDIENTS:
Tilapia filets
Salt
Flour
Salt the filets and lightly flour. Shake off excess flour. Pan fry the tilapia until both sides are golden and set aside.
In a bowl or mixing cup mix the following for the sauce:
1/4 cup cider vinegar
4 Tbsp. Soy Sauce
1/2 cup water
2 Tbsp. HOT Banana Sauce (ketchup can be used as substitute)
4 Tbsp. sugar
1 Tbsp. corn starch
Mix all the ingredients above and set aside.
In a skillet, saute' the following:
3 cloves Garlic, sliced thin
1 large Onion, sliced
3 Tbsp Ginger, cut into strips
3 medium Tomatoes, seeded and chopped
5 bird chilis (leave whole or slice if more spiciness is preferred)
2 Tablespoons of Olive Oil
Black pepper
Heat the oil and saute' the garlic, onions and ginger until fragrant. Add the tomatoes and chilis and let it cook for a couple of minutes while stirring. Stir up the sauce mixture to blend it again, and pour into the pan with the vegetable. Stir continuously until it comes to a boil and thickens. Adjust the seasonings, crack some black pepper over the sauce and stir.
At this point you can either put the fish filets into the sauce or spoon the sauce over the fish when plating as in this case.
Other variations of this dish are here:
Pilgrim's Pots and Pans' escabeche
Pinoy Cook's Escabecheng Tonto & Sweet and Sour Fish
Stef's Pollo en escabeche
Stel's Homely Escabeche submitted for the first Lasang Pinoy event
CeliaK's Sweet & Sour Fish
Thank you to Purple Girl for hosting this round of Lasang Pinoy.
Filipino Cookbooks