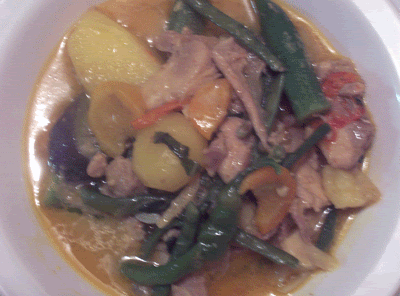 This recipe is probably not very authentic, actually it is NOT authentic anything, but it is another way of using up the vegetables we have from the garden. Even the potatoes were from our garden, I'm proud to say. I was in my iron chef mode again and started pulling stuff from the refrigerator and the pantry and this is what I came up with. It's a twist on an old recipe, but isn't that what cooking is all about? Taking something you are familiar with and putting a twist on it.
INGREDIENTS:
10 boneless, skinless chicken thighs
1 head of garlic, chopped
1 lg. onion, chopped
1 cup cherry tomatoes, chopped
2 Tbsp. Curry Powder
2 cups coconut milk
4 small potatoes, quartered
2 carrots, cubed
3 cups yard-long beans (sitaw), cut into 2 inch length
2 cups okra
5 chili peppers
1 Tbsp. Oyster Sauce
2 tablespoons Oil
2 Tbsp. fresh basil, chopped
Salt & Pepper to taste
Heat the oil and saute' the onions and garlic for a couple of minutes until fragrant. Add the tomatoes and cook a couple of minutes more. Add the chicken and curry powder and cook until the chicken turns opaque. Add the coconut milk and season with oyster sauce, a bit of salt and pepper. Add the potatoes and carrots and simmer until tender, about 10-15 minutes. Add the yard long beans, okra and peppers and cook for 5 more minutes. Sprinkle with the chopped basil, stir and adjust the seasonings. Serve over steamed rice.
Filipino Cookbooks