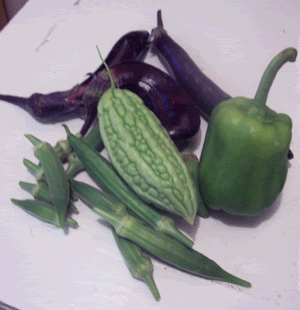 Whenever I see this grouping of vegetables, the first thing that comes to mind is another traditional Filipino dish called Pinakbet. This is what I call Pinakbet waiting to happen. When cornered into translating this dish for English speakers, I simply call it vegetable stew. Basically, that is what it is, a melange of vegetables stewed until their flavors meld.
I called this one Pinakbet Tagalog because that is what my Ilocano grandmother calls this sauteed with meat version. The Ilocano version uses no oil and uses Bagoong (fermented anchovies) instead of Alamang (shrimp paste).
Although this dish is traditionally cooked with pork, I have also cooked this as a side dish sans the meat and it is just as delicious. The combination of the vegetables is just classic. There have also been occasions when I didn't have bittermelon on hand, plus the girls arent' too crazy about the bitter gourd, so I have also been known to leave this particular vegetable out. There are many variations to this dish so don't be afraid to substitute or add other vegetables of your choosing. Another traditional ingredient to this dish that I didn't happen to have this time around is butter squash which I have also substituted with zucchini squash. No matter which vegetables you choose to "stew", the mandatory ones for me to be considered pinakbet are the eggplants and okra. Luckily, I have the holy trinity of Pinakbet in my garden and as the weather is starting to turn cool and I will soon be without these, I figured as a last hurrah to the summer I would cook Pinakbet one more time.
INGREDIENTS:
1/2 lb. Pork (with some fat on it – I used pork butt)
2 tablespoons Oil
1 Onion, sliced
4 cloves of Garlic, chopped
Thumb sized knob of Ginger, sliced into rounds
1 cup Tomatoes, chopped (I used cherry tomatoes)
2 Tablespoons of Shrimp Paste (Alamang)
Start by cooking the meat in about 1 cup of water until all the liquid evaporates and the meat starts to render some fat. Depending on how much fat is rendered, you may have to add another tablespoon or two of oil to saute' the rest of the ingredients in. When the pork is slightly browned on the edges, add the garlic and onions and cook until fragrant, about a minute or two. Add the ginger, tomatoes and shrimp paste and cook for another couple of minutes until the tomatoes have softened and flavors are starting to blend. Note: if you can't find shrimp paste or just don't want to add it, you can omit it. I have also been known to do this especially when I want my non-fish-eating daughter to eat some of it.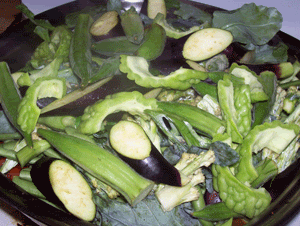 The vegetables you use depends on what you have on hand. This time around I added to this dish:
3 cups of Yard-long beans and regular Green Beans combined
a few florets of cauliflower (because that is all that is left in the garden and wanted to cook them up)
1 Bell Pepper, cut into squares
3 Japanese Eggplants, cut into serving size
10-15 pods of Okra, stem removed
1 medium sized Bittermelon, sliced diagonally
1 cup of water
Add the water to the sauteed onions and tomatoes, mix briefly then start layering the vegetables in the pot starting with the vegetable that takes the longest to cook up to the one the takes the least time to cook. The vegetables above are ordered in the way they were layered in the pot. Cover, and cook for about 7 to 10 minutes until the vegetables are tender but not overcooked. Stir just before serving to distribute the flavor of the aromatics at the bottom of the pot and to mix the vegetables. Serve over rice.
This post is my contribution to this week's Weekend Herb Blogging which was conceptualized by Kalyn's Kitchen to feature different herbs, vegetables, plants or flowers. This week, this event is being hosted by Sher at What Did You Eat?
Filipino Cookbooks