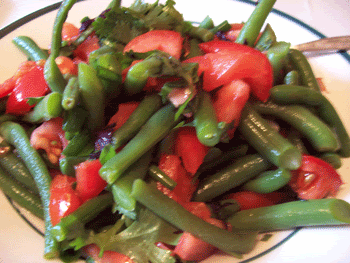 There are many versions of green bean salad, this is one of the simplest but it's my favorite because the natural flavors of each vegetable is enhanced rather than masked. This dish is also perfect when you are on a diet as it has 0% fat content.
This is the green bean salad I referred to in a previous post, green beans & tomato salad. While that salad was dressed with olive oil and balsamic vinegar, this one is dressed simply with lime juice and fish sauce. To begin with, fresh green beans are blanched just until tender, about 4 to 5 minutes in boiling water. They are then quickly cooled off in a bowl of ice water to prevent additional cooking, then drained. In a bowl mix the green beans with chopped tomatoes and cilantro then toss in a dressing of equal parts lime juice and fish sauce. If you prefer you can also add thinly sliced red onions which I chose to omit this time.
Wondering about fish sauce? There are a great many misconceptions about what fish sauce is and how it is made. I was once talking to a former Vietnam Veteran who I thought would have known better since he was actually in the country, but I guess under the circumstances that brought him there, I can't expect him to glean the nuances of Vietnamese cuisine. He actually believed that nuoc mam (fish sauce) was made by hanging fish out in the sun, and as it decomposes and renders it's juices, they are then caught and this is fish sauce. Nothing could be farther from the truth. Fish sauce is a by product of a fermentation process that has been tested and perfected over generations.
Thank goodness for the internet, information is now readily available to the curious or to those who just wants to set the record straight. Here are some background information, just follow the links if you'd like to learn more.
Fish sauce is a condiment commonly used in Southeast Asian cuisine and goes by many names:
NamPlah – Thailand
Nuoc Mam – Vietnam
Ngan Byar – Myanmar
Teuk Trei – Cambodia
Patis – Philippines
Fish sauce is not exclusively of southeast asian origin however, it is also an ingredient to one of the more common western condiment, worstershire sauce. Fish sauce can also be traced as far back as the roman times when it was known as garum.