If you hadn't noticed already, yes, we do bake a lot of chicken. We have our favorite way which is also the simplest way, but once in a while, especially when we have an abundance of a particular ingredient (in this case purple basil), we like to change it up a bit just to have some variety. This is our experiment with purple pesto, and it turned out pretty well.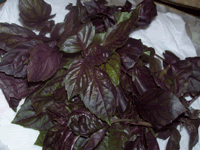 INGREDIENTS:
Juice from 2 limes
4 cloves of garlic
1/4 cup or 1/4 of large onion, roughly chopped
1 cup purple basil, chopped
3 Tbsp. pinenuts
Put all the ingredients above in a food processor to make a purple pesto.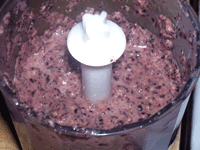 Pre-heat oven to 350 F. Place the chicken pieces in a baking dish and season with salt and pepper then spread the purple pesto over each piece. Put in the oven and bake for 1 hour and 10 minutes.
This chicken was served with sauteed green beans and potatoes.