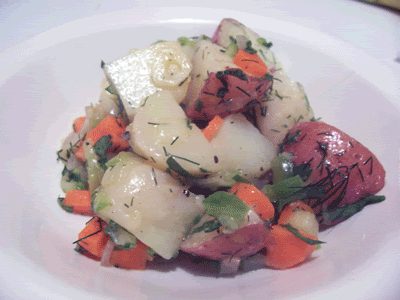 The weather has started to turn cooler, and so we've had to take in the remains from our garden. Not willing to let summer go quite yet, we've taken advantage of the fall sunshine to do a bit more grilling. I came across this recipe for Potato Salad with Dilled Vinaigrette and decided to use up some of the fresh herbs from the garden before they are dried for the winter.
This is my variation, and my entry for weekend herb blogging which this week is hosted by Fiber of 28 Cooks.
INGREDIENTS:
New Potatoes, cooked and halved/quartered
2 medium carrots, cooked, diced
1 green bell pepper, diced
8 Tablespoons Olive Oil
1 cup sweet onion, diced
2 cloves garlic, sliced
2 Tablespoons fresh dill
3 Tablespoons fresh italian parsley, chopped
3 Tablespoons chives or green onions, chopped
4 Tablespoons lime or lemon juice
1/4 teaspoon freshly cracked balck pepper
3/4 teaspoon salt
1 teaspoon sugar or pickle juice
Boil the potatoes and carrots, cut up, and set aside to cool. In the meantime, heat a tablespoon of the olive oil in a skillet and saute' the onions and garlic until fragrant and the onions are translucent. Add the onions and garlic to the potatoes and carrots. Add the dill, parsley, green onions, and bell pepper to the bowl with the potatoes. In a small bowl or jar, mix the remaining olive oil, lemon/lime, black pepper, salt, and pickle juice. Adjust the seasonings, and pour the dressing over the potatoes. Mix well and let sit at room temperature until you are ready to eat to let the flavors blend.