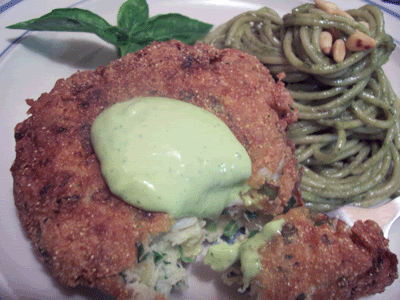 With all the basil from our garden over the summer, we had plenty of basil infused dishes while it lasted. We probably have basil coming out of our pores, but it's a pleasing scent, so w/e, whatever, as my daughter would say. Here is another way of using up some basil and also some parsley from the garden, one of our last hurrah recipes from the garden. The yucon gold potato used here were a couple that we dug up from the garden too! I think they just came up on their own from kitchen scraps that got buried in the plots. They were a nice surprise.
INGREDIENTS:
1 lb. lump crab meat
2 yucon gold potatoes, cooked and mashed
1/2 cup chopped green onions
2 Tbsp. chopped flat leaf parsley
1/2 teaspoon kosher salt
1/2 teaspoon fresh cracked pepper
2 eggs, beaten
1 Tbsp. lemon juice
1 Tbsp. dijon mustard
2 Tbsp. Mayonnaise
1 teaspoon Worcestershire sauce
1 teaspoon Tabasco
Mix all the ingredients above and form into patties. Roll the patties in corn meal and place on a cookie sheet. Once you have formed all the mixture, place the cookie sheet of patties into the freezer until you are ready to fry them. If you'd like to keep them in the freezer longer, place them in ziploc bags after they have frozen on the sheet so they will keep their shape. When you are ready to cook them, just pan fry and brown on both sides.
This batch was served with basil aioli and spaghetti with pesto sauce. (click on the links for aioli and pesto recipes)
This is my entry for Weekend Herb Blogging which, this week, is back to it's original home in Kalyn's Kitchen.