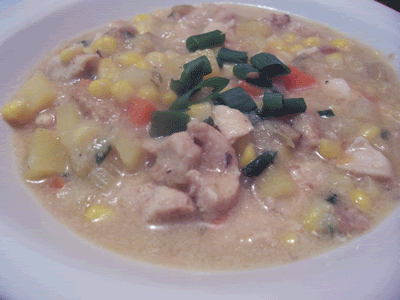 With the weather turning cold once more, what better way to welcome fall than chowder. The clone really wanted to use some of the leeks from the garden, but they aren't quite ready yet so we settled on using scallions and corn instead. I wish I could say the corn came from our garden, but unfortunately our corn didn't do so well this year and we only got a couple of ears. The potatoes used for this soup was from our garden though.
4 T butter
3 cloves garlic, chopped
1 med onion, chopped
2 stalks celery, chopped
Scallions (green onions), separate white end from green, set green ends aside for garnish
3 carrots
2 cups corn
6 med potatoes
4 deboned chicken thighs or 2 chicken breasts, cubed
1/4 c. flour
salt and pepper
2 cups milk
3 cups chicken broth
Melt butter in hot pan and sautee garlic onion, celery and white part of scallions until fragrant and onions are translucent. About 5 min. Add chicken and sautee until opaque. Add flour and sautee with the chicken and veggies for another minute. Add potatoes and carrots, broth; and milk. Season with salt and pepper and simmer until potatoes are done and broth is slightly thickened. Add corn and cook for another 5 minutes. Add the green onions, stir through and serve.