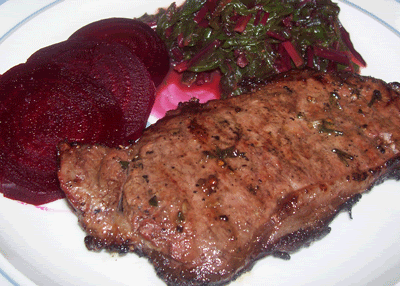 This is round two of beets in the garden and the last (probably) of outdoor grilling. Nothing beats grilling steaks so when we had a few days of unseasonably warm weather recently, we decided to grill one last time.
One of our favorite marinades for steak is bottled teriyaki sauce, balsamic vinegar, olive oil, crushed garlic, cracked black pepper and herbs. We still had some fresh rosemary and thyme in the garden so that's what we used this time around. When we had plenty of basil, we used basil; but one night of freezing weather pretty much burned all the basil left.
These were New York Strip Steaks grilled medium for hubby and I but well done for the princesses.
It is definitely soup weather time again, and we'll have plenty of those coming up. This is our last taste of summer.
maybe…… 😉
For Beet recipes:
Boiled Beets
Beet Greens with Garlic