HAPPY THANKSGIVING!! It's that time of year again, feared most by turkeys and loved by gourmets and gourmands alike. Thanksgiving has got to be my favorite holiday. It has all the festiveness of Christmas without the worry and stress of giftgiving. This year, we are turning to our traditional Southern menu with a touch of Filipinoness. As you will note, Turkey is the only main dish. It's Thanksgiving after all. Some people will add a second or third main dish, like ham or fish, but we feel the turkey should have front center and top billing. I will probably add a couple of new, experimental (my kids hate this part)dishes but I haven't figured out what yet.
Here is a collection of recipes typically served during our Thanksgiving Dinners. I wish you and your families a happy thanksgiving. Enjoy! (Click on the photos for recipes)
MAIN DISH: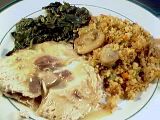 Click on this link if you want to brine your turkey first.