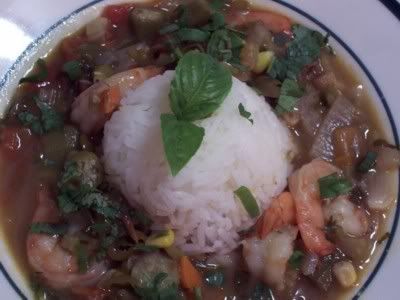 This recipe was adapted from the Evil Jungle Prince. This is a spicy soup, perfect for cold nights and perfect for using up the okra we had in the freezer from our summer bounty. I adjusted the proportions a bit to serve 4. I also used fresh herbs because I still have some, but you can use dried too, you just may have to reduce the amounts. I believe dried herbs have a stronger flavor than fresh.
INGREDIENTS:
1/4 cup Olive oil
1/2 cup Flour
2 cloves garlic, chopped
3/4 cup onions, chopped
1/2 cup celery, diced
1/2 cup carrots, diced
1 lg. bell pepper, diced
5 small bird peppers, diced
2 medium jalapeno peppers, diced
1 cup tomatoes, diced
2 Tbsp. fresh basil, chopped
1 tsp. fresh thyme
1 tsp. fresh dill
2 bay leaves
7 cups chicken broth
3 tsp. Worcestershire Sauce
2 cups corn
2-3 cups okra, cut into 1/4 inch length
2 lbs. shrimps, peeled
Salt & Pepper to taste
Start making a roux by heating the olive oil then add the flour. Stir and cook until the the flour is browned but not burnt.
Next saute' the aromatics: garlic, onions, carrots, celery, and peppers. Let them cook in the roux until they are fragrant and starting to soften. Add the tomatoes and cook for another minute. Add the herbs: basil, thyme, dill, bay leaves. Stir. Add the broth, worcestershire sauce, and a bit of salt and pepper. Let the soup simmer for about 15 minutes. Add the corn and okra and simmer for another 15 to 20 minutes. About 10 minutes before serving, add the shrimps and cook just until they are done. Adjust the seasonings and serve in a bowl over rice.
I added additional spiciness with some hot sauce, but I only did that with my bowl.