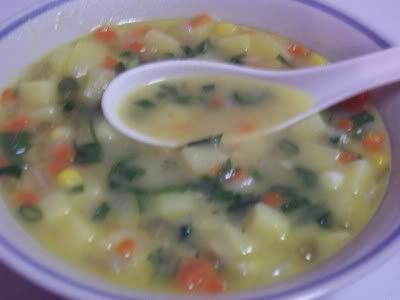 This is a quick, easy and vegetarian version of the Chicken & Corn Chowder we cooked previously which was meant to have some leeks in it. This is the Clone's new favorite soup because it doesn't have any meat and it has leeks which she planted herself, so it's her new favorite vegetable.
INGREDIENTS:
1/4 cup butter
1/4 cup flour
2 cloves garlic
3/4 cup chopped onions
1 cup leeks, sliced thin
1/2 cup carrots, diced
1/2 cup celery, diced
6 cups vegetable broth
3 cups diced potatoes
1 cup corn
Salt & Pepper
Start by melting the butter in a hot pan and cooking the flour in it for a couple of minutes. Add the garlic, onions, leeks, carrots, celery, corn and potatoes and let it saute' until it is fragrant, about 5 minutes. Add the broth and let it simmer for 15-20 minutes or until all the vegetables are tender and the broth has thickened up a bit. Season with salt and pepper and serve.
Filipino Cookbooks