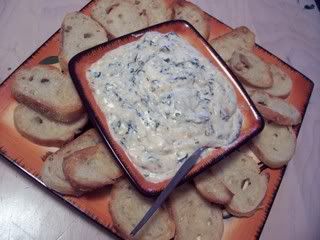 Everytime we go out to one of those chain restaurants, my girls always get either the chili con queso dip or this one, both usually served with tortilla chips. I looked at several recipes on the internet and came up with this one which is a combination of two or three recipes found. This time around, we served this with toasted baguettes for our Super Bowl Sunday party which the girls didn't want to label as such since we only watch the commercials and half-time show anyway.
INGREDIENTS:
4 cloves of garlic (pre-baked for 20 mins at 20-30 minutes)
1 package of frozen, chopped spinach, thawed and drained thoroughly
1 package of frozen artichoke hearts, cooked according to package directions, drained and chopped
1 jar of Alfredo sauce (store-bought)
1 cup shredded mozzarella cheese
1/2 cup grated parmesan cheese
1 pk (8 oz) cream cheese, softened
1/4 cup sour cream
1/4 cup mayonnaise
1/2 tsp. red pepper flakes
Combine all the ingredients in an oven safe dish and mix well. Cover and bake in the oven preheated to 350 degrees until it is warm and bubbly (about 40-50 mins). Serve warm, but also still good after it cooled off.
The clone actually had this for lunch today. What I did: spread about 2 tablespoons of the dip on a large flour tortilla, top with lettuce, chopped carrots, and cucumbers. Roll up, and you have one healthy veggie burrito for lunch!