This salad, I borrowed from Kalyns Kitchen. I also made this last Sunday for our appetizer/nosh day. I had a two pound bag of shrimps, from Costco of course, and decided to make half into shrimp cocktails and the other half into this salad. I modified it a bit to suit what I had on hand and to taste.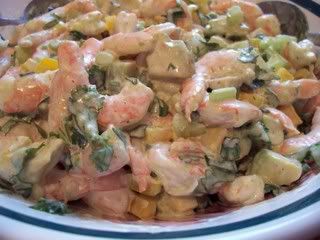 INGREDIENTS:
1 lb. cooked, frozen shrimps (thawed and drained)
1 cup diced celery
1 cup diced yellow bell pepper
2 avocados, diced
1 Tablespoon lemon juice, to toss with avocado
1/2 tsp. salt, to toss with avocado
1/2 cup sliced green onions
1/2 cup chopped cilantro
Dressing:
1/4 cup Mayonnaise
1/2 tsp. Ancho chili powder
Whisk the mayonnaise and chili powder together, then fold in the thawed and drained shrimps. Set aside in the refrigerator while you chop the other ingredients.
Dice the avocadoes toss with the lemon juice and salt until well coated. This will keep the avocadoes from turning dark. Add the rest of the salad ingredients and toss. Add the mixture to the shrimp and gently fold everything together. Chill (or not), and serve.
Kalyn gives great background on shrimp sizes and how to use raw shrimps if that is what you have on hand. She also says that this recipe is South Beach approved recipe, so if you're on a diet, what a great way to indulge! I had this for lunch the following day, and it was still delicious! I was afraid the avocadoes would have turned black and turned the whole thing into mush, but no, it was still as good if not better as the day we made it!