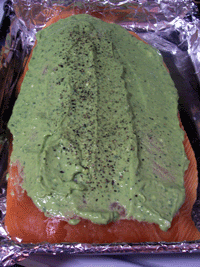 I am still not up to cooking much. We have just been cooking old standbys like soups…lots of soups. It has been wickedly cold, but I am not going to complain because I know plenty others who are having a much harsher winter than we are.
While going through my saved drafts, I realized that I haven't posted this one yet. Perhaps it was because it was such a simple recipe that I decided to hold off on it. I don't know. But when I saw the photos I just made me remember last summer when we had such an abundance of basil that I started putting it in everything until the kids had pesto coming out of their ears. Not really, that was just a figure of speech, but you get it.
Anyway, I was making so much pesto that we just had to use them up before it went bad. For the salmon, it is really simple. All I did is to take some of the pre-made basil pesto sauce that I had saved in the fridge, about a cups worth, and mixed it with about half a cup of mayonnaise then slathered it on the side of salmon. Bake it for about 20 minutes at 400 degrees, and you have dinner! Serve with salad, and in this case, pasta with, what else, pesto sauce.