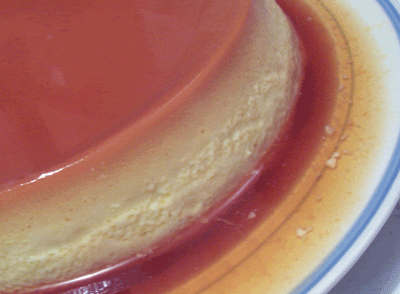 I had just made a double batch of coconut cake with seven minute frosting for my sister-in-law's birthday and had some egg yolks left over from making the frosting. I decided to make leche flan but when I checked the cupboard, I realized I didn't have any condensed milk. I had coconut milk though, so I decided to experiment. It came out ok, I just ended up cooking it longer than usual as I had put it in a small soufle' dish and it was deeper than usual; and I'm not sure if the proportions I used had too much liquids in it. Anyways, it took about two hours before it looked like it had set. Next time, I will probably use a shallower dish and reduce the cream to one cup. This time, here is the proportions I used. I also used egg yolks only this time around, but 6 whole eggs will also do if you don't want to waste the egg whites.
BTW, the coconut flavor was a nice change.
INGREDIENTS:
For the caramel:
1 cup sugar
1/4 cup water
1/2 tsp. lemon juice
For the custard:
1 can (13.5 oz) Coconut Milk
2 cups heavy cream
8 egg yolks (or 6 whole eggs)
1/2 cup sugar
1-1/2 tsp. Vanilla
Pinch of Salt
Place the coconut milk and cream in a pan and scald (heat without boiling). In a large mixing bowl, whisk together the eggs, sugar, vanilla and salt until blended. Add about half a cup of the warmed cream mixture to temper the eggs, mix, then add the rest of the warm cream.
To make the caramel, place the sugar, water and juice in a pan and bring to a boil. Let it boil until it starts to thicken and the color turns amber. Pour the syrup into the soufle' dish or any pan you intend to use for cooking the flan, and swirl until the sides and bottom of the pan is coated with syrup which will soon harden.
Pour the custard mixture through a fine sieve (to remove any solids remaining) into the pan. Cover the dish loosely with foil and place in a larger pan with hot water (bain maire). Bake in a pre-heated 350-degree F oven for 2 hours or until the flan is set.