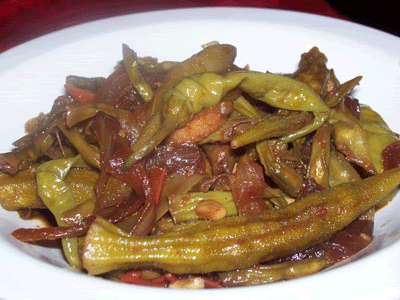 How do I love adobo? Let me count the ways….there's chicken, beef, pork, liver, ribs, and vegetables too! Yes, you can adobo vegetables and yes, adobo can be a verb 🙂
When you're tired of the vegetable stews, soups, steamed, and stirfrys, vegetable adobo can be a very good option and quite easy too! You can cook almost anything in the soy and vinegar mixture that makes adobo. I just had some long beans okra and peppers on hand so that is what I used.
INGREDIENTS:
4 cloves garlic, chopped
1 onion, sliced
3 tomatoes, sliced
3 Tbsp. vinegar
1/4 cup soy sauce
vegetables: long beans, okra, peppers
1 Tbsp. oil
Heat the oil in a pan and saute' the garlic, onions an tomatoes until they have softened and are fragrant. Add the vegetables and stir. Pour the soy and vinegar and simmer until all the vegetables are tender.
Filipino Cookbooks