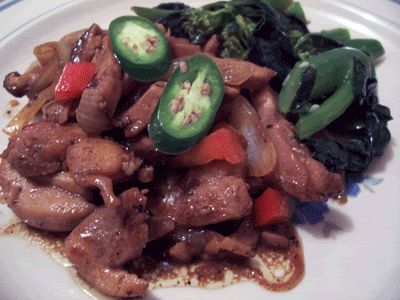 This was another happy accident that came about when I couldn't decide what to make for dinner, didn't feel like looking for a recipe to try, and was just plain tired of the usual fried and baked dishes. I had some of the boneless and skinless chicken thighs in the freezer so I decided to simply stir fry them with some chinese broccoli. However, as I started chopping the ingredients, I changed my mind midway and decided to cook them as separate dishes. The broccoli, I simply pan friend with olive oil and garlic. For the chicken, here's what I did.
INGREDIENTS:
3 packs of boneless skinless chicken thighs (about 15 thighs)
1 large onion, sliced
1 cup of dried Shiitake mushrooms (soaked in hot water)
1/4 cup diced red bell peppers
1 hot chili pepper, sliced (optional)
Oil
Marinade:
1 Tbsp. ginger, minced
1 Tbsp. garlic, minced
1 teaspoon hot sauce (add more or less to your taste)
1/2 teaspoon freshly ground black pepper
2 Tbsp. Soy Sauce
1 Tbsp. Chinkiang Vinegar (black rice vinegar)
4 Tbsp. Oyster Sauce
Slice up the chicken thighs into bite sized pieces and mix with the marinade ingredients. Let stand for 15 to 30 minutes while you get the rest of the ingredients ready and cook the vegetable. Once you start stirfrying, things start cooking really fast so save the stirfying of the chicken until you have everything cooked and are almost ready to eat.
When you're ready, heat about 2 tablespoons of oil in a wok and stirfry the chicken in batches so that it sears rather than stews. I stir fried this batch of chicken in four batches since my stove doesn't get quite hot enough to maintain a high heat in my wok. The marinade should caramelize nicely to coat the chicken pieces. When you're done cooking the chicken, add two more tablespoons of oil to the wok and stirfry the mushrooms (squeeze out the liquid first) and onions for a couple of minutes then add the chicken back in. Mix well, add the diced bell peppers, stir and take off the heat. If you want the dish to be spicy, stir in the hot chili pepper slices along with the bell pepper. Since I have to make this less spicy for the girls' sake, I just topped my serving with the hot peppers instead.
I cooked a lot because the girls needed something to bring for their lunch. They said this dish was even better the next day.