In the Philippines, this dish is also called 'binagoongan'. Translated loosely as something cooked in bagoong, a term used for fermented fish or in this case shrimp paste. While I have heard of this dish for years I have never made it myself nor have I ever tasted it, I don't think. I was intrigued by its description though, and I have heard of how delicious it is from other people, I just had to try it out.
Plus, for some reason, I have had the weirdest craving for something fatty and salty lately so could anything be more perfect than this dish to sate my craving? The more I researched how to cook this dish, the more I realized how many different versions and variations there are. It's almost like our beloved adobo. Everyone has their own version of it. So even though I didn't at first plan on associating this dish with the traditional 'binagoongan' as I didn't really follow any of the recipes I looked at but rather did one of my cafeteria methods again by picking and choosing elements that I liked from each recipe, I supposed I can honestly say this is my version of 'binagoongan'.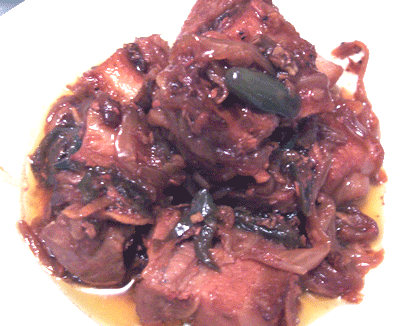 Ingredients:
1 lb. pork belly, cut into chunks or cubes
6 cloves of garlic, coarsely chopped
1 large onion, sliced
1 inch knob of ginger, sliced
2 serrano chilis, chopped with seeds
2 Tbsp. cider vinegar
2 Tbsp. soy sauce
2 Tbsp. shrimp paste
1/2 cup water (or more as needed)
Place the pork belly chunks in a pot over medium heat and lightly brown the sides until some fat have been rendered. Add the garlic, onions, and ginger. Saute' with the pork for a couple of minutes until fragrant. Add the chili peppers and vinegar, cover and cook for a couple of minutes until the vinegar has almost been absorbed and the dish starts to sizzle again. Add the soy, shrimp paste and a half cup of water. Mix, cover and simmer until the pork is tender and almost all of the liquids have been absorbed. Check every 20 minutes or so and if the liquid is almost gone but the pork is not as tender you'd like it to be, add another half a cup of water. Keep repeating this until the pork is fork tender and the liquid has been reduced. This shouldn't be soupy.
Good luck, and good eating 🙂 Make sure you have lots of steamed rice on hand.
Filipino Cookbooks