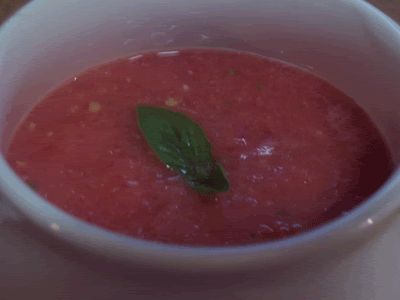 I was dreaming of summer the other day and discovered this unposted photo of last summer's tomato gazpacho. Gazpacho is a Spanish derived cold soup which is just the thing when you have perfectly ripened tomatoes that are just brimming with natural sweetness. My girls, upon seeing this dish, exclaimed, but that's just watery salsa, mom! But upon tasting it, they have become gazpacho addicts. They can drink up this stuff.
I make a very basic blend to start with. In a blender or food processor, combine ripe tomatoes, sweet onion, 1 clove of garlic, a sprig of basil, salt and pepper to taste. Blend until everything is crushed together. If the tomatoes are not juicy enough and you would like a 'soupier' mix add some broth or just plain water to loosen it.
When you serve, you can plate it as is, or you can embelish with any of the following: sour cream, chopped cilantro, chopped chili peppers, cubed avocado, crispy fried tortillas, cubed cucumbers, or anything else that suits your fancy.