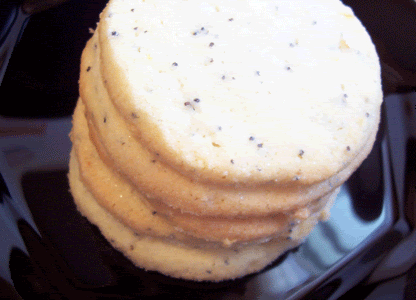 I have been hacking and coughing for a week now, and just hadn't had much energy nor inspiration to cook. The only thing that feels good on my throat is something soupy, sour and hot. I think I've posted enough sinigang recipes on this blog for everyone to drown in, but I love soups, so what the hey! Anyway, my girls were looking a bit pitiful without anything homemade for days now, so we decided to make these quick and easy cookies for comfort. And guess what, they have lemons! Just what the doctor ordered for a cold. Well, not really, but they were great anyhow.
INGREDIENTS:
3/4 cup (1 & 1/2 sticks) of butter, softened
1 cup granulated sugar
2 Tbsp. poppyseeds
2 tsp. finely grated lemon zest
1 egg
3 tsp. lemon juice
2 cup flour
Cream the butter and sugar until light and fluffy. Mix in the poppyseeds and lemon zest, then the egg and lemon juice. Mix until well blended. Slowly mix in the flour until the dough holds together. Divide dough in half and roll each half into logs using either wax paper or plastic wrap. Chill in the refrigerator for a couple of hours.
When ready to cook, preheat oven to 350 degrees F. Slice dough rounds into 1/4 inch thick. Dip top surface in sugar and bake for 12 minutes or until edges start to brown.
Great served with hot tea or cold milk.