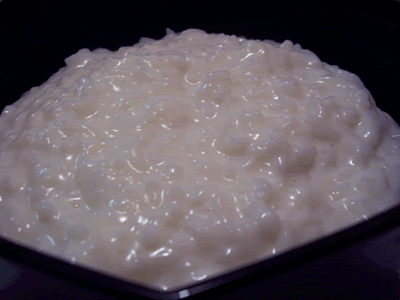 The thing about being under the weather is, you turn into a big baby and start to want all the comfort foods your mommy gave you when you were sick. That's been the case in our kitchen lately what with one of us getting the cold one right after the other with moments of overlap in between cases. So lately there haven't been any new experiments in our kitchen. We've fallen back to old comforting favorites like sinigang or 'sour soup' as the girls like to call it, rice porridge or lugaw, and lots of soft rice dishes like the malagkit na bibingka below. This is the Southern version of
our rice cake
, the rice pudding.
We've made this at least twice since I've been sick. Mainly because the girls have been doing some cooking for me while I rest. Aren't they just wonderful? I loved being pampered. The drawback though is with my novice cooks, sometimes put a little too much water on the rice and we end up with very sticky rice that is not exactly gruel but close to it. I don't want to discourage them from cooking, so rather than cooking a new pot of rice and discarding the sticky rice as my aunts used to do when I was growing up, we grudgingly eat it anyway. Of course, none of us end up eating much of it as we all still prefer perfectly cooked and fluffy rice. What to do with an almost full pot of rice? Rice pudding!
Most rice pudding recipes, especially the Southern versions include raisins, which I love but my family hates. So this version is as plain as you can get. If you are feeling more adventurous though, this rice pudding is very receptive to just about any topping you can think of including fresh fruits. Try it with some very ripe peaches, strawberries, or blueberries and you'll be in heaven.
INGREDIENTS:
2 cups cooked rice, soft
2 cup whole milk
1/2 cup sugar
dash of salt
1/2 cup cream or milk
1 egg, beaten
1 tsp vanilla
1 Tbsp. Butter
Combine the rice, milk, sugar and salt in a pot and slowly bring to a boil over medium heat, stirring occasionaly to keep from sticking. When it comes to a boil, keep stirring and cook until it starts to thicken. In a bowl, combine the egg, cream and vanilla and mix well. Add this mixture to the rice, stirring to blend in thoroughly. Add a tablespoon of butter, mix and remove from the heat. Let it cool, it will thicken some more as it cools. Can be served warm, but better when completely cooled or slightly chilled.