This is a short cut to making the traditional Philippine rice cake which usually labor intensive when made from scratch and thus was reserved for special occations. I have to admit that it isn't as good as the 'made from scratch' version, but when hungry for some comfort food fast, then this will do. This recipe is based on the Baby Rambutan's Bibingka recipe.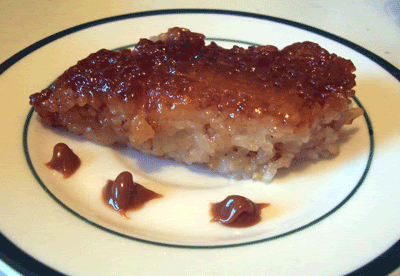 3 cups sweet rice, cooked
1 can coconut milk plus 1/2 can of water
1/8 tsp. salt
For my really short cut version, I did away with the soaking part and just put the rice, coconut milk, water and salt in the rice cooker and hit the button. I opened it midway and stirred as the coconut has a tendency to float to the top. Once cooked, I transferred the rice into a square pyrex dish and topped with the bottled coco jam that sisterO sent me. I only put about a third of the jar. Baked in the oven an additional 15-20 minutes at 350 degrees F or until the topping starts to bubble. Cool, and serve.