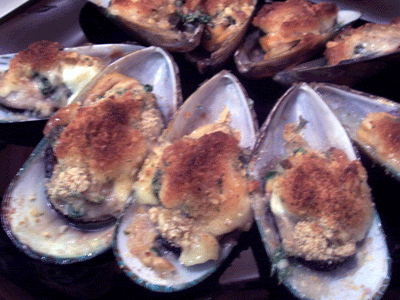 Here is another dish inspired by bloghopping. Not too long ago, I was drooling over mussels cooked by Iskandals and SpiCES but I wasn't sure where or when I would be able to get a hold of some decent mussels. Then Ces commented that I can use the frozen New Zealand Mussels commonly found in the grocery store. So that is what I did, got me a box of mussels and got to cookin'. This is what I came up with. They were delicious! Next time, now that I know I have a steady source, I will try all the recipes from Iska and Ces.
INGREDIENTS:
New Zealand Mussels
4 cloves garlic, minced
2 tablespoons chives, minced
2 tablespoons flat leaf parsley
Mayonnaise
Bread crumbs
Place mussel half shells on a cookie sheet. In a small bowl, combine the garlic and herbs. Sprinkle the mussels with garlic and herb mixture. Place a dollop of mayonnaise (about half a teaspoon) on each mussel. Sprinkle tops with bread crumbs. Bake at 400 degrees F for 15 to 20 minutes until the mayonnaise has melted and the top is lightly browned. Serve with a squeeze of lemon.