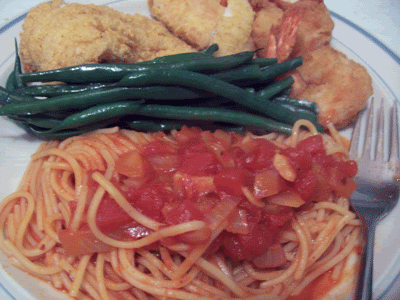 I grew up eating Southern food before I even knew that there was such a distinction. This is owed to my step-father who is not really a Southerner as he was born and raised in Louisville, Kentucky, but he, as probably most African-Americans in the north, has deep roots in the south. I took it for granted that all Americans ate grits for that is what he cooked for breakfast most days. He would cook stewed apples and stewed tomatoes as side dishes. He made his famous beef soup as we always called it but later found out it is called Brunswick Stew in the south. One of the weirdest things he cooked, and I've come to love it since, is his sweet spaghetti and fish. Now this is just downright foreign to my way of eating fish. I don't think it's a southern thing either as I have never known anyone here eating their fish with spaghetti. Around here, they gotta have their hush puppies or cornbread when eating fish. So this must be a midwest kind of thing sort of like his eating chili with spaghetti. Now that one, I never did get used to but is intrigued by nonetheless.
Lately, I have been thinking about my step-dad. I don't know why. Maybe because the anniversary of his passing and his birthday just passed. Maybe because today is Asi's birthday and how he would have loved to see the young lady she has become. Or maybe it was the fried catfish that just didn't seem right with any other side dish. I don't know…. I just had to have my fix of his sweet and spicy spaghetti with my catfish. As I ate, I could almost hear him across the table talking to me. The spiciness makes my eyes mist as I remember one of the sweetest human beings ever to cross my path. So I share with you this very simple, unpretentious recipe that to me is coming very close to comfort food.
INGREDIENTS:
2 Tbsp. olive oil
2 cloves chopped garlic (this was my addition, it was not in his recipe)
1 large onion, chopped
1 (14 oz) can of chopped tomatoes
1 (14 oz) can of pureed tomatoes or tomato sauce
1 Tbsp. Sugar
1 tsp. red pepper flakes
Salt & Pepper to taste
Cooked Spaghetti
Heat the olive oil and saute the garlic and onions until they are just starting to caramelize and brown. Add the tomatoes and the rest of the ingredients and simmer for about 30 minutes to blend the flavors. Adjust the seasonings to your taste. I like mine to be spicy and sweet at the same time. Add the cooked spaghetti into the sauce, mix well and serve.