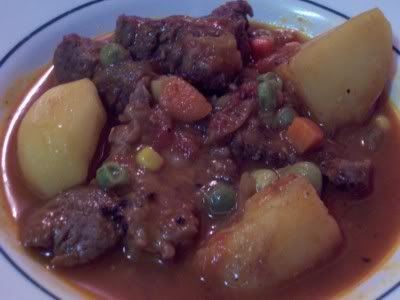 I call this Sassy Sarciado because it is based from the Pinoy Cook's recipe. From the comments on her post, I figured out that the type of meat she referred to as 'batok' (loosely translated as nape-or-back-of-the-neck) is commonly known here as chuck. Here is my version.
One thing I hate to do is wash dishes, so if you're a regular reader of this blog, you will know how I like one-pot meals. This certainly qualifies as that. It could be a meal by itself, but also great over rice or with some hearty fresh-baked bread.

3 lbs Beef chuck, sliced into pieces 1/4 inch thick
1/2 of a head of garlic (6-10 cloves), chopped
2 onions, sliced
6 roma tomatoes, diced
2 Tablespoons tomato paste
2 bay leaves
2 cups frozen Mixed Vegetables (peas, carrots, corn)
6 small Yucon Gold potatoes, quartered
4 oz. sliced portobello mushrooms
Salt and Pepper to taste
Oil
Flour
First lightly fry the potatoes in about 4 tablespoons of oil and set aside. Lightly flour (2-3 Tbsp)and season the beef slices with salt and pepper, and brown in the same pot used for frying the potatoes. Lightly brown the beef and also set aside. At this point, you may have to add a tablespoon or two of oil into the pan. Don't worry about the stuck, brown stuff at the bottom of the pan, that will all cook into the stew and add more flavor. Sautee' the onions and garlic until fragrant then add the tomatoes and mushrooms (I added mushrooms just because I had them in the refrigerator and they needed to be used up. They were not in the original recipe). Let cook for a few more minutes. Add the bay leaves, tomato paste and the beef back into the pot. Cover with water (about 3-4 cups) and simmer until tender (about an hour). Season with salt and pepper. When the beef has cooked through, add the vegetable mix and potatoes and cook for another 10 to 15 minutes.