For this round of Lasang Pinoy, I decided to gather all the egg recipes that have been sitting waiting to be written up. This round,hosted by Alfbeercan of Eat Matters is all about eggs!
How many ways can you do egg? Probably too many to count. The egg is probably the most versatile food product there is. It can go from delicate to hardy, from simple to sublime as easily as water pours from plastic to crystal and vice versa. Eggs can be served for breakfast, lunch and dinner, even dessert! Not many food items can claim that. So is it any wonder that my photobucket, upon review is peppered with diffent versions of egg dishes?

Here are a few of my favorite ways with eggs:
These are all variations of the omelet, but I cook my eggs what I call the Filipino way which is somewhere between the folded omelet and a fritata. That is, the filling is stirred with the eggs just until it is set.
First, eggs with corned beef. Left over corned beef, that is. We had some leftover corned beef after our annual dose on St. Patrick's Day so here it is chopped up and sauteed with onions, mushrooms and some left over potatoes first then scrambled eggs was stirred in. Sort of like a corned beef hash and scrambled eggs all in one dish. Great with toast and orange juice for breakfast.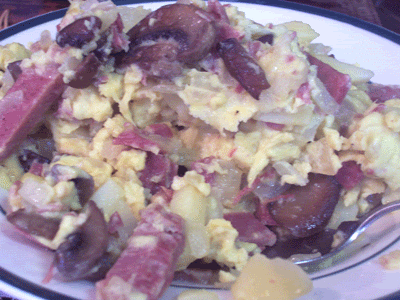 Second, Eggs with Sardines. This is my favorite indulgence when I have a craving for Ligo Sardines. I keep a can in the pantry just for moments like this. Sautee lots of onions and tomatoes and add the sardines of your choice, spicy or not. Break up the sardines, and stir in some scrambled eggs. Yummy over rice.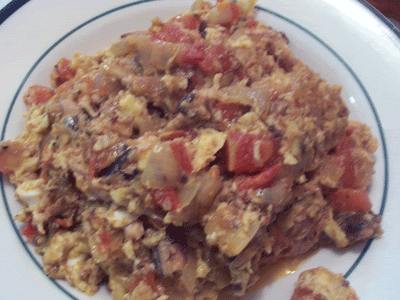 Third, Eggs with Tomatoes and Onions. This is a classic in our kitchen. Simply sautee onions and tomatoes and stir with scrambled eggs. Great served with fried rice and bacon or even better, tuyo (dried fish).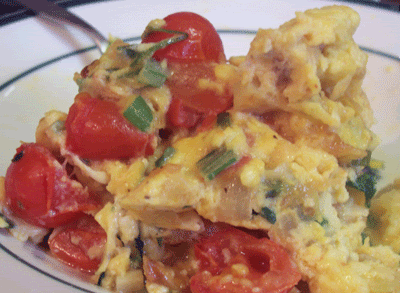 Fourth, Eggplant Omelet. In Filipino, we actually call this torta and is sometimes served not for breakfast but for lunch or dinner. Eggplants (use the long variety – Chinese, Japanese, or Filipino) are first grilled or roasted to burn off the skin. Remove the skin and spread out the egglant. Pour scrambled eggs over it and try to keep the shape of the eggplant intact during cooking.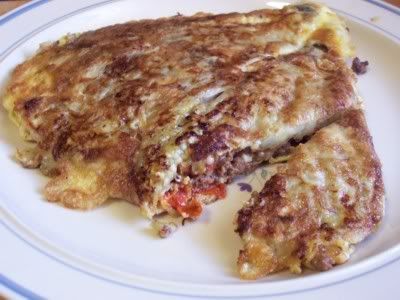 Fifth, Ground Beef Torta. This is another classic egg recipe that can be served during meals other than breakfast.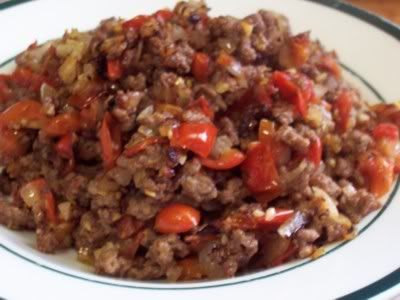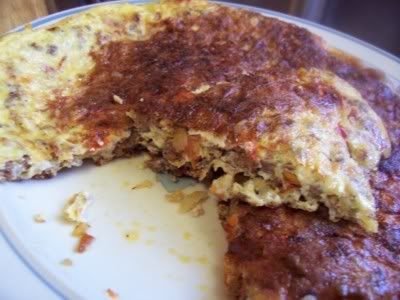 Sixth, Egg Salad. There are many variations of the egg salad but the girls and I like this, the simplest of them all. This is simply boiled eggs seasoned with salt and pepper and brought together with a bit of mayonnaise. Great for lunch with a green salad or on toast. This was a great way to use up Easter Eggs 🙂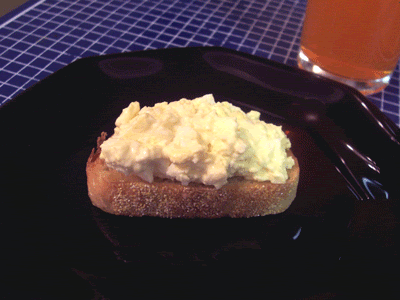 Make sure you check Eat Matters for the round up in a few days.