Cooked From the Heart » snacks » Mara Pizza
This girl loves pizza. Especially the kind of pizza that she makes herself and gets to know really well if you know what I mean. She has gotten so good at this pizza making thing that she can now make her own pizza from start to finish. All I have to do is proof the yeast for her first, and she does the rest.
Pizza making is a great activity for kids as it is literally very hands on. The hardest part in the whole process is waiting for it to rise. This is why proofing, or making sure that the yeast is working, is very important. It could be very disappointing if the yeast is dead and no rising ever occurs. This girl practically watches the whole dough rising process, coming back to check under the 'blanket' every five minutes of the two hours it takes for the dough to fully come up, than gleefuly punching the thing down until it deflates.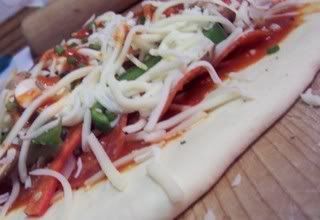 The part that all of them look forward to is stretching or rolling out the dough and topping it with their favorites. For the basic, you should have pizza sauce and mozzarella cheese. From there, you can add your favorite toppings. For Mara, she likes hers simply with cheese or with pepperoni depending on the mood she is in, but for the rest of us, anything goes.
Here is the basic pizza dough the girls use:
Prep time:
Cook time:
Total time:
Ingredients
1 & ⅓ cup warm Water
1 package Dry Yeast
1 tsp. Sugar
3-5 cups of Flour
3 Tbsp. Olive Oil
2 tsp. Salt
Instructions
Start the process for them by proofing the yeast. To do this, put ⅓ cup of warm water (no hotter than 110 degrees F or you will kill the yeast) in a cup. Dissolve the dry yeast and sugar in the water. The sugar gives something for the yeast to feed on and thus 'liven up' faster. After five minutes, if the yeast is good, the mixture should have a bubbly foam on top of it, about an inch high. I proof the yeast in a clear glass or jar so the girls can see how the foam rises. Once the yeast proofs, the girls take it over.
In a bowl or on a clean counter top, mix 4 cups of flour with the salt, mound it up like a mountain, then create a crater in the middle like a volcano. Inside this hole, pour the liquids: yeast mixture and olive oil. With your hands, slowly start mixing in the flour into the liquids. This is the girls' favorite part as they get their hands right into the messy mixture. Keep incorporating more flour until the mixture starts to form a dough ball. Knead the dough until it becomes smooth and elastic.
Oil a large mixing bowl with a teaspoon of olive oil and turn your dough into this bowl. Cover with a clean cloth and let it rise until doubled. This will take anywhere from an hour and a half to two hours. After the dough had doubled, 'punch it down' (this is Mara's favorite job) and gather the dough together again. Divide if making individual pizzas, or make one large one by stretching or rolling the dough out to the desired size and thickness. Place the dough on a pizza pan and start topping with your favorites.
Preheat the oven to 450 degrees F and when ready, bake your pizzas for 10 to 20 minutes depending on how large your pizzas are, until the crust is lightly browned and the cheese is bubbly.
The kids will know what to do from here…

Filed under: snacks · Tags: Cooking with kids, homemade, Pizza, snacks, The Clone