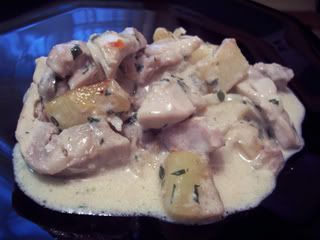 This dish is a variation of the Sassy Chicken with Mushroom and Sour Cream which was a recipe borrowed from the PinoyCook. These chicken and cream dishes have fast become a favorite in our kitchen both for their flavor and convenience. The boneless skinless chicken thighs that I buy in bulk from Costco are perfect for this dish because they are pre-proportioned so all I have to do for a quick meal is defrost a couple of packs in the microwave and I can have dinner on the table in less than an hour.
Continue on if you would like the recipe.
INGREDIENTS:
10 boneless, skinless chicken thighs cut in pieces
4 cloves garlic, chopped
1 large onion, sliced
1 Tbsp. fresh Thyme
2 Tbsp. fresh Flat Leaf Parsley
3 Potatoes, cubed
1 stick (1/2 cup) Butter
2 cups cream
Salt, to taste
Dash of Red Pepper Flakes (1/4 teaspoon)
I'm a big fan of one pot cooking since, as you probably already know how I hate washing dishes. If you do this in the right order, you won't need to dirty up another pot.
First in a skillet, melt the one stick of butter and brown the potato cubes. You don't have to cook them all the way through, just get some color on them. Take them out and set aside. In the butter remaining, saute' the garlic and onions for a minute or two then add the chicken pieces. Stir and saute for a few more minutes until they start to turn opaque. Season with salt and pepper and add the thyme and parsley. Add the 2 cups of cream and lower heat to a simmer. Stir, add the reserved potatoes and cover. Let it simmer for about 20 minutes making sure that the liquid does not evaporate too much (add more cream if necessary). Remove from heat when the chicken and potatoes are cooked all the way through and the sauce has thickened slightly. Adjust seasonings and serve.