I saw
this recipe
from Peggy of
What's Cooking in Carolina
. Since I had some zucchini in the refrigerator that were begging to be cooked, I thought this would be a great one to try. Plus, with my husband and kids, anything fried is a guaranteed hit.
I changed a few things around, but it is basically the same idea. Here is my version: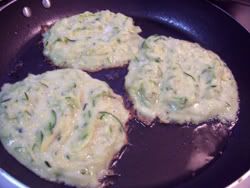 2 green Zucchinis, grated
2 yellow Squash, grated
1/2 sweet vidalia onion, grated
1 cup Korean Pancake Mix
1/2 cup water
1 egg
Salt & Pepper to taste
Oil for frying
Mix the grated zucchini, yellow squash and onions in a large bowl. In a separate bowl, beat one egg, add the Korean pancake mix and water and mix until blended. Season with salt and pepper and pour over the vegetables. Mix well. Heat some oil in a pan and drop spoonfuls of the batter, depending on the size you'd like to make your pancakes. These were about three inches in diameter so I was able to make three at a time. Brown each side until browned and drain on paper towels.
You can serve these with a dipping sauce of lemon, soy and pepper flakes which I prefer, or ranch dressing, the preferred dipping sauce of The Clone.
src="http://pagead2.googlesyndication.com/pagead/show_ads.js">