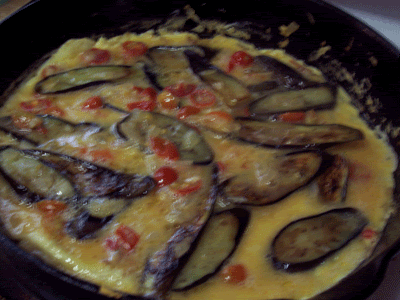 The girls are off to summer at grandma's house so it is just me and hubby at home again. Sometimes when we are feeling particularly lazy we cook an egg dish for a quick supper and since I am still trying to clean out the fridge of odds and ends, we decided to have this for a light supper. I only had one Japanese eggplant left in the crisper, and not much other vegetables to pair it up with so eggplant fritata it is.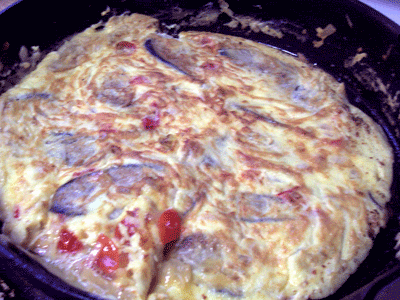 Since Japanese eggplants are relatively mild and thin skinned, I simply sliced them and quickly pan fried the slices in a bit of olive oil. Set them aside and scramble about 4 eggs and season with salt and pepper. Heat a couple more tablespoons of oil in the skillet and pour the egg mixture in. Let the eggs set about halfway, then place the eggplance pieces on top of the egg. I also had some left over chopped tomatoes so I just threw those in too. Carefully turn the omelet over and cook on the other side. Serve.

Tip on turning a whole omelet over: After the egg has set half way, meaning the bottom is fairly cooked but the top is still runny, slide the omelet onto a plate. Holding the plate in one hand, carefully cover it with the skillet facing down, quickly flip it over, remove the plate and return the skillet to the stove.