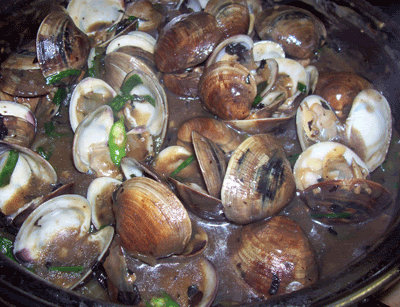 This is one of my favorite ways of cooking clams, and whenever I go to a Chinese restaurant that offers this, I never fail to order it. These clams, I found at Costco. Asi is my only daughter who shares this dish with me. She loves to put the sauce over her rice. When she and I are hungry, we can put away a whole order of this dish.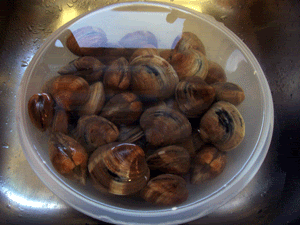 When preparing fresh, live clams, make sure that all the shells are tightly closed. Or that they close up when you touch them. This means that the clams are still alive. There is nothing more disgusting than eating shellfish that has died before cooking. Their flesh deteriorates really fast that is why you have to cook them alive. Scrub the outside of the shells to make sure any mud, sand, or other impurities are removed. Wash them several times to get rid of any grit. It also helps if you soak clams in clean water for a few hours before cooking. This will allow them time to spit out any impurities like sand before cooking. Some suggests soaking them in milk too, but water works just as well I think.
INGREDIENTS: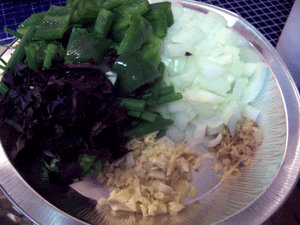 Fresh Clams (about 3 pounds or a big bowlfull)
4 cloves garlic, chopped
2 Tbsp. fresh ginger, minced
1 large Onion, chopped roughly
1 large Green Bell Pepper, cut into 1 inch squares
1 bunch of Green Onions, cut into 1 inch length
2 fresh hot chili peppers, cut into diagonal slices
2 Tbsp. fermented Black Beans
4 Tbsp. Oyster Sauce
2 Tbsp. Oil
1 tsp. cornstarch dissolved in water (about 1/4 cup or so)
Heat oil in a wok or heavy bottomed pan. Saute' the chopped garlic and ginger for a minute then add the black beans. Lightly mash the beans to release the flavors and stirfy for another minute. Add the onions and bell peppers, stir, and add the clams and oyster sauce. Stir and cover the pot. Let it cook/steam for about 5 minutes until the clams have opened. Remove any clams that did not open up. The clams should have released some liquid at this point. Add the cornstarch mixture to thicken the sauce, stir in the chili peppers and green onions. Serve over rice. Lots of rice!